Buy 4 for €47,45 each and save 5%
Buy 8 for €46,20 each and save 7,5%
Buy 12 for €44,96 each and save 10%
A LED downlight, nowhere else to be found! An innovative 12 Watt dimmable RGB color + warm white LED luminary you can control wirelessly.
Choose a nice saturated color from the RGB pallet while watching a movie, or enjoy the brigh warm white at the dinner table (extra dedicated Samsung LED's with 2700K warm white).

You save immediately with the purchase of this multifunctional wireless LED downlight: With conventional (LED) downlights you always need an extra power-adapter, while with this downlight it is included in the receiver that is pre-attached to the downlight. Easy installation: Just attach 2 main current wires, link the remote or APP and mount the light!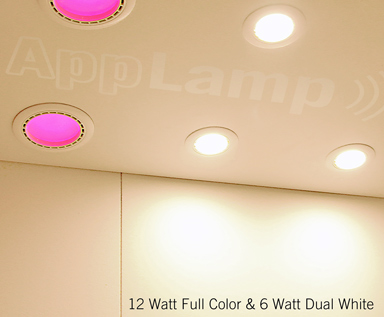 Control lthe downlight with an optional 4-channel Color Touch Remote or with the optional Wifi Box with App for smartpone and tablet.

The downlight always switches ON if used in conjunction with a wall switch. It will always remember it's last collor and dim-state!

Mounting diameter is 125 a 140 mm, needed mounting height is 74mm
The outer visible ring has a diameter of 145mm.
0 stars based on 0 reviews