Complete set of two modern multi color 12 Watt LED downlights with RF remote control (up to 30 meter range through walls).

A unique LED lighting product, you'll not find elsewhere easy! An innovative 12 Watt multi color dimmable LED downlight, which can be controlled wirelessly with the included powerful 4-channel Color Touch remote.

You can operate all downlights simultaneously or control them individually. Choose any RGB color or switch to extra warm white (using additional LEDs with 2700K extra warm white light).
Dining, lounging, parties or meetings: This recessed downlight is truly multifunctional!

You save directly when purchasing these wireless LED recessed downlights: Unlike conventional LED lighting, you don't need to buy any expensive power supplies and dimmers. This is a ready to use kit that includes a pre-attached integrated 220V power supply and receiver control box. This gives an unprecedented ease of use and installation.

In addition to the supplied Full Color Touch Remote, you can optionally add our Wifi Box to your RGBW downlight setup for Wi-Fi App control via your smartpone and tablet!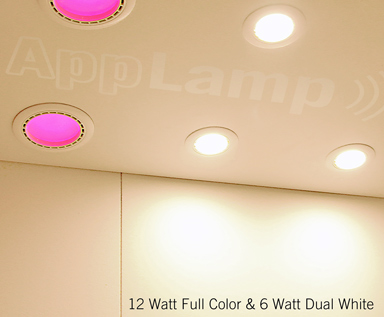 The color LED downlights have a solid state memory so they will always return to the last used brightness and color settings, even when an ordinary wall switch is used. Very useful is that the downlights simply light up when the wall switch is turned on again! (even when the multicolor LED downlight was switched off earlier with the RF remote control)
The diameter for installation is 125 to 140 mm, the required mounting height is 75mm (including cable.) The visible outer ring has a diameter of 145mm.
Contents: 2 pieces 12 Watt RGBW LED recessed downlight with pre-attached 220V power supply / receiver and a 4-channel RF touch remote.
Options are a
WifiBox
and APP for domotics control on your smartphone / tablet.
0 stars based on 0 reviews