Waterproof RGB LED strip with 300 RGB LEDs of type 5050. IP68 stands for fully waterproof. This waterproof RGB LED strip is rain resistant, and can also be used underwater, for example in a pond or aquarium.

This versatile RGB strip contains A-quality LEDs and leaves many other RGB LED strips behind with its his long life span, solid waterproof silicone encasing and 18 lumen RGB LEDs.

This waterproof RGB LED strip can be shortened every 5 cm. Look for accessories like extra sealing endcaps with silicone and mounting clips in the category "LED strip accesories-> RGB" or the related waterproof products at the bottom of this page.

A rain and water resistant professional RGB LED Strip with 60 LEDs per meter for a very beautiful bright and intense color effect.


devidable every 5cm (endcaps available under accesoires)
4mm thick silicone encasing (IP68)
4 PIN waterproof RGB connector
12 Volt / 72 Watt / 6 Ampère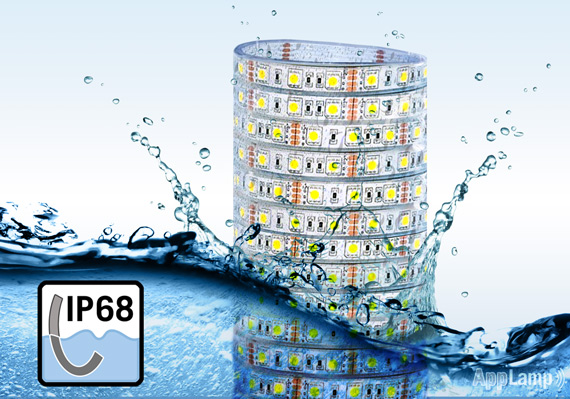 0 stars based on 0 reviews