AppLamp: Control WIFI LED light via smartphone, tablet or remote
AppLamp: Control WIFI LED light via smartphone, tablet or remote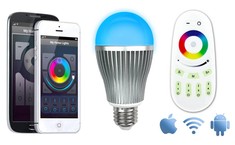 WIFI LED bulb kit with 9W Full Color RGB bulb
€59,99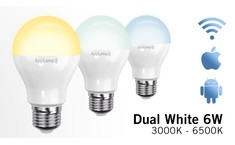 -20% Week Offer!
Dual White Wifi LED bulb with 6 Watt LED.
Dimmable, white shade configurable from warm white to daylight. Equivalent to regular 60 Watt bulb.
€16,95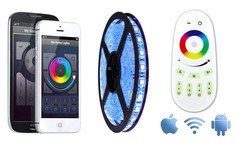 Looking for a Multicolor RGB LED strip that is controllable with your smartphone tablet?
€109,99
AppLamp: Wifi LED lighting via smartphone and tablet
From now on you can control your home LED lights with an APP on you smartphone or tablet. But also directly with a stylish remote control. We ourselves are passionate about innovative lighting applications, and it seemed great to offer an affordable solution: We therefore introduce AppLamp, the ultra-efficient interior Wifi LED lighting system! From cozy dimmed dinner lighting in a single touch to funky purple, you are in control. Wireless luxurious comfort at any time and from any place. And the wallswitch remains doing its oldfashioned job, just like before!
What do I need?
The WIFI LED bulbs and WIFI LED strip are easy to operate with a powerful remote control. Do you also want to take control of your LED lights with a cool WIFI APP? Then you only need the optional Wifi Box. The corresponding Wifi control APP for iOS and Android can be downloaded free of charge.
Innovate with us! Create your own creative lighting plan with our individual components or use the super affordable and extendable AppLamp wifi led starter kits.

Choose your plug & play AppLamp Startkit with options on the right-hand side.
Watch the video below and learn how to install the App and Wifibox.